Bootstrap is used quite popularly for web design because of its feature of optimizing the interface on many devices as well as having a well-organized and easy-to-understand grid system. Therefore, to increase the user experience and aesthetics of the website, UI building tools were born. It helps you to have more components with diverse features and designs but still retains the core of Bootstrap.
Material Kit
Material Kit is a set of UI building tools for Bootstrap 4 based on Google's Material Design inspired design. It offers more than 60 popular website building components and many add-on plugins included. What I like about it is its high aesthetic and clear instruction page for each component (Like Bootstrap's Document page) that makes it easy to visualize to apply to the website. With 60 components is enough for me, but if you want more features or components, you can buy the Pro version with more than 1000 components, many plugins included, provided with Photoshop, Sketch files...
Froala Design Blocks
Froala Design Blocks is a collection of more than 170 pre-written designs based on Bootstrap 4.1.3 farmework and above combined with Google's Roboto font, froala_blocks.min.css file and Font Awesome library. It has components designed according to modern trends and displays on many different device screens. What I like about it is that we can get the component's code through specific examples in its demo page. In addition, you can also get the code of the components divided into groups in the Categories section of the Github page.
Shards
Shards is a completely free Bootstrap UI builder that you can use for any type of website. With a size of only about 13kb and modern style design, it is easy to design and optimize website performance better. To download, just enter your email and the download link will be automatically sent to your email. What I like about it is that it has clear and easy-to-understand documentation and support for current Bootstrap versions like 4.3.1.
Boomerang UI Kit
Boomerang UI Kit is a free Bootstrap UI builder with more than 50 components provided to help you easily design and build websites. If you like a simple style with a modern twist, you should use this tool. It also has a detailed step-by-step guide to help you know how to use the tool in your website. In addition, it also has motion effects, built-in social sharing buttons, icon library from Font Awesome 5...
Stream UI Kit
Stream UI Kit is an Open Link Bootstrap UI builder with a size of only about 17kb. and is licensed by MIT. In addition to specific documentation, it also has examples of websites (like home, about...) built with the Stream UI Kit tool that you can easily visualize and apply to for your website.
MDBootstrap
MDBootstrap is a website that contains more than 400 components for websites designed in Google's Material Design style. It is full of detailed examples for each specific component, you just need to choose which component you like and copy the code to the HTMl page and you can use it. In addition, it also supports other languages such as Vue, React, Angular and even Jquey. However, its limitation is that most of the beautiful components with many functions, you must have a pro license to use.
Flat UI
Flat UI is a tool to build Bootstrap UI in a flat design for your website. Since it's an Open Link code, it's completely free, but if you want more features or components, you can buy a pro license to upgrade your website.
Wrapkit Lite
Wrapkit Lite is a tool to help you build Bootstrap UI easily. With the free version, it provides almost all the components that a website needs. With additional useful features such as beautiful CSS animations, easy extensibility, support for the popular Bootstrap version...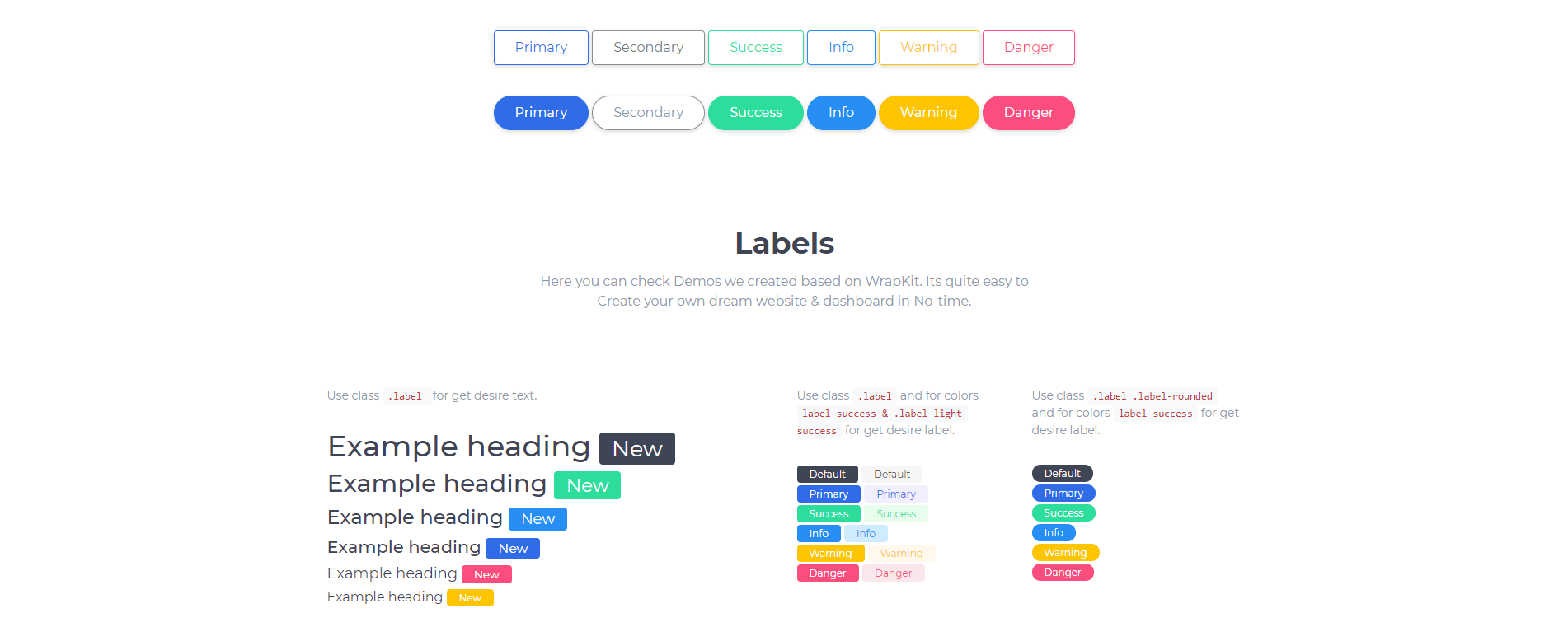 Startup UI Kit
Startup UI Kit is a page that contains all the components required for a website and is displayed on many different device screens. It includes 16 pre-built UI cards that make it easy to choose and combine them to suit your website's intended use.

Anchor UI Kit
Anchor UI Kit is a tool that helps us build Bootstrap UI easily with high aesthetics. Because it is an open link code, you can use it completely free for your website. In addition, it also has detailed documentation and rich motion effects to help you increase the user experience when using the website.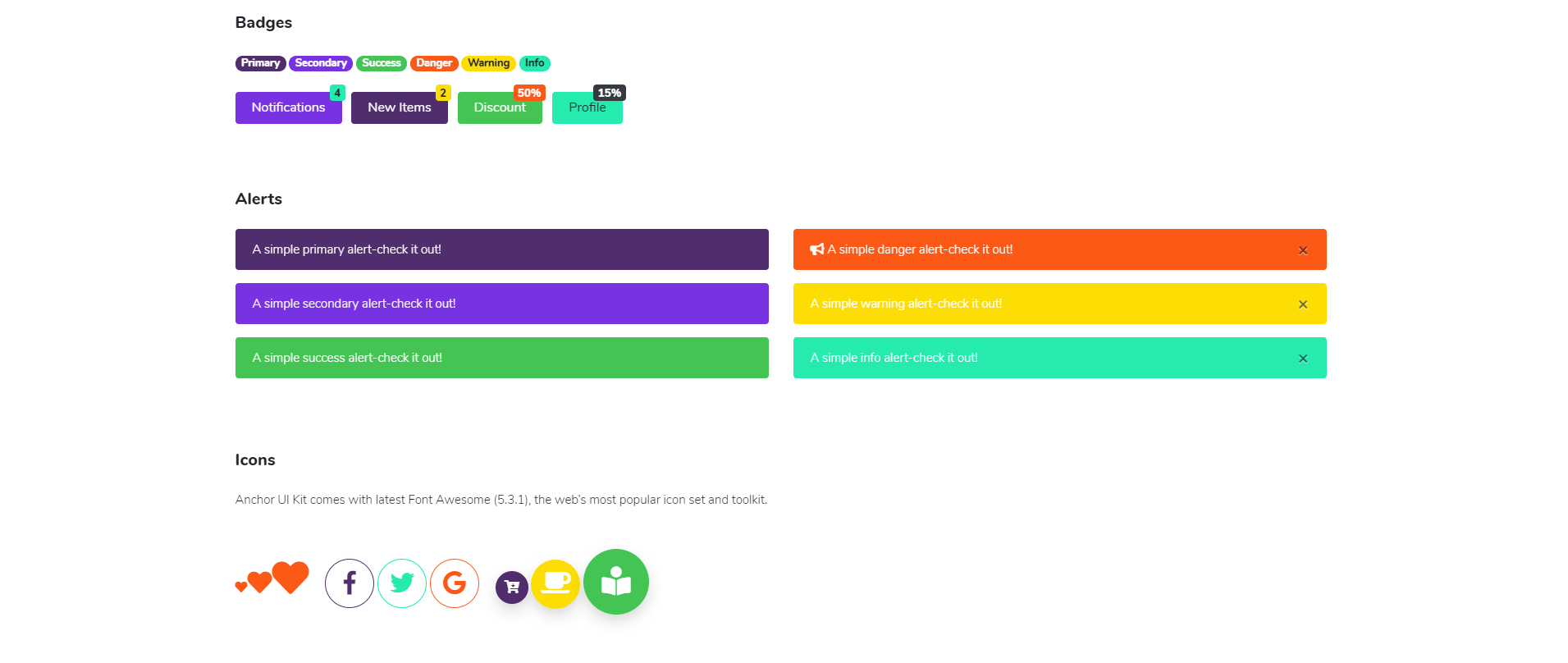 Awesome Bootstrap Checkbox v1.0.0
Awesome Bootstrap Checkbox v1.0.0 is an open-source Link library that makes it easy to choose a well-designed and feature-rich checkbox component for your website. It builds on Bootstrap 4 and has no Javascript, so it can be applied to as many web projects as you want.
Social Buttons for Bootstrap
Social Buttons for Bootstrap is a collection of buttons for today's popular social networks through the use of CSS and Font Awesome. Usage is also very simple, you need to download its css file and then set up the social network button you like by calling the class for the HTML elements.
Bootstrap Colorpicker
Bootstrap Colorpicker is a tool to help you build a color picker component for users to use on your website with many extended and flexible customization features.

bootstrap-select
bootstrap-select is a tool built with Jquery that makes it possible to add features to the select box or redesign that component in the web page using the flexible customizations provided by bootstrap-select such as limiting the number of choices. select in a select box, set the length of the select box, change the color, allow entering keywords in the select component...

Bootstrap Table
Bootstrap Table is a tool that lives up to its name, making it easier for us to work with tables in Bootstrap. It has filter functions so that users can see the attributes they want in the table or a search engine helps to quickly find a data in the table through keywords... In addition, it also has the function of exporting the table. on the website in the form of JSON, XML, CSV, Excel... What I like about it is the detailed tutorials with specific examples that make it easy for you to understand and apply to your website.
Related Articles:
Summary
I hope the article will provide you with useful Bootstrap UI building tools for web development and design, and if you have any questions, just send an email and I will respond as soon as possible. I hope you continue to support the site so that I can write more good articles. Have a nice day!