Code Snippet as I understand it is a place where you can find solutions to problems in programming. In addition, we can also learn about how programmers handle problem when build project. Therefore I will introduce top websites to snippet code example for web development.
Website Code Examples
CodeMyUI is a website where you can find everything coding script example like Javascript, HTML, CSS, Jquery or UI design web development. The main sections are broken down into smaller sections so you can easily find the code snippet for your website. I often use this site to find problems to solve as well as to explore and learn more from many programmers about coding, their experience...
Codepad is a website like Codepen where you can find useful code snippets from the world's developer community. You can create a place to store your favorite pieces of code or follow programmers you admire. In addition, if you are a freelancer looking for work, this is the place to help you show off your skills and that is proven through the ranking of programmers in the website. Interesting isn't it!
30 Seconds Code is a website with many useful code snippets in many popular programming languages such as CSS, Javascript, Python, PHP, C #, React... with more than 250 contributors contributing and regularly updating content. often. This is where you can find professional problem solving solutions that are clear and easy to understand. Not only that, it also has many tricks for popular programming languages to reduce coding time..

CSS-TRICKS is a website that I think is very useful for those who specialize in Front End, web design. It features in-depth articles on tips in web design and development. This is also a place for useful code snippets to help us solve common problems while developing the interface for the website. It supports many popular languages such as HTML, CSS, Javascript, WordPress… and is updated regularly to make it easy for you to grasp new tricks and techniques.
W3Schools is a website that provides us with extremely useful courses for programmers who specialize in front end or back end. It helps us learn all the necessary knowledge about programming and web development. However, as far as I know, W3Schools also has a page that specializes in synthesizing code snippets about common problems or components in programming and supports 3 main languages: HTML, CSS and Javascript.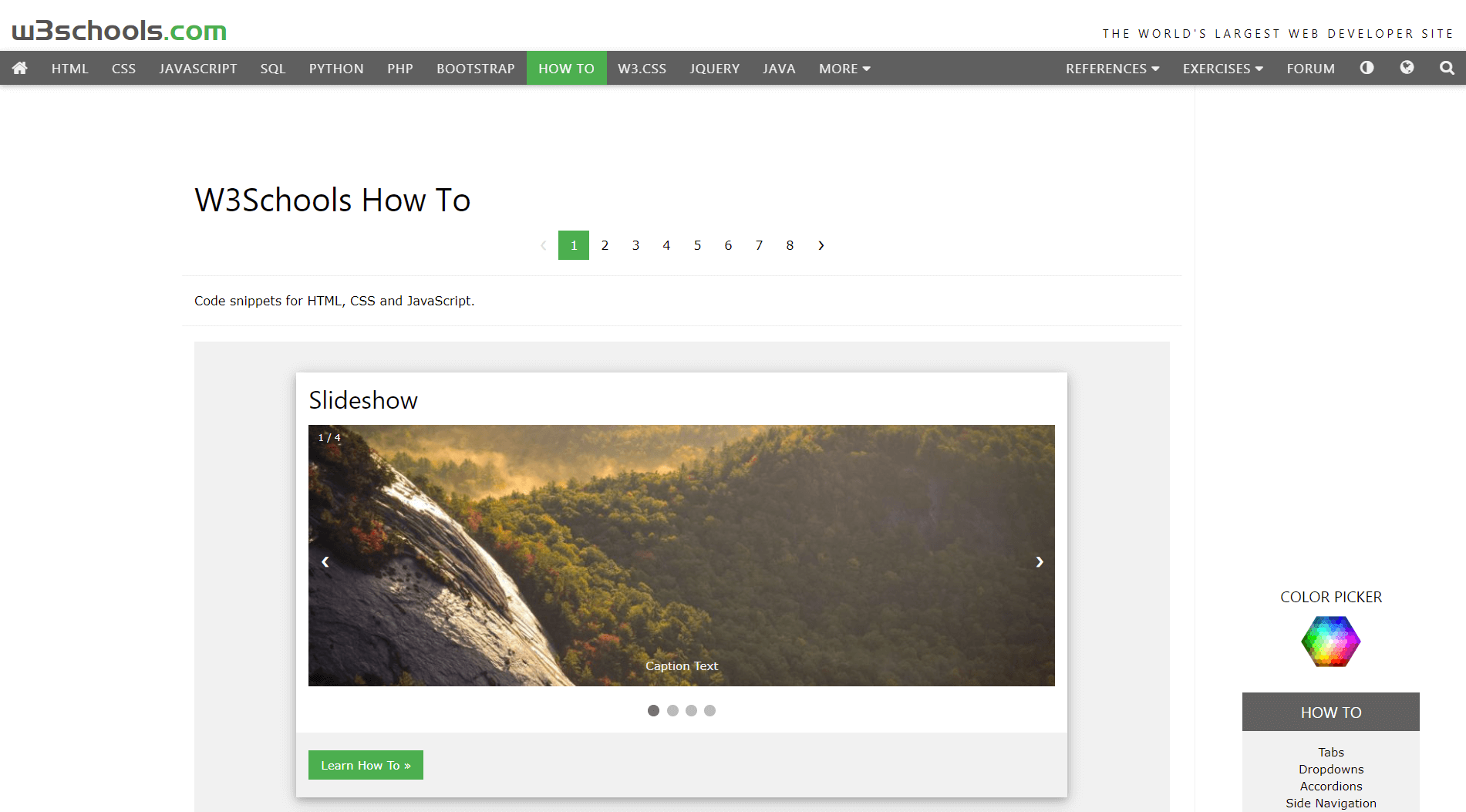 Snipplr help you solve simple problems that often in development. It is a place where you can store useful code by yourself or other programmers .It supports most of popular programming languages with good problem-solving methods. Also you can share your code on social networks like Facebook, Twitter...
Web Code Tools is a website that contains tools that allow you to automatically generate code via properties that you enter. For example when you need to make a input character it will give the attributes input as Name and Placeholder. it will show us before the element is displayed in the web page and automatically export code. You just need to copy and paste it into your project web. The web code engine supports many features for HTML5, CSS3, Microdata, meta tags...
Codeply is a website that to helping you to code online. It also a place to store more than 2000 code snippets of programmers around the world. With mainly front-end support languages like HTML5, Javascript, Vue, React, Bootstrap... You can also learn more about programming through its blog written by experienced programmers.
Bootsnipp is one of the indispensable websites for programmers using the Bootstrap framework. It includes code snippets for various Bootstrap versions . In addition, it also contains tools to help you build and design websites easily such as form builder, web font, website speed test... Bootsnipp also has a forum to help programmers FAQs and aggregates free templates.

CodeSandbox supporting you code online programming, it also a place to store thousands html code example for website you can learn and apply to website. It also supports today's popular programming languages such as React, Javascript, Vue, Angular, Node... In addition, you can also track or make a list of your favorite projects so you can review at any time. You can also easily search for solutions related to your problem using the search box combined with the site's smart filtering function.
CodePen is a social network for programmers to exchange, exchange and learn skills through sharing interesting programs they write. It allows you to program online with common web programming languages such as HTML, CSS, Javascript... and you can add external libraries via CDN to your program. In my opinion, this is a great place for us to learn through programs that are shared and constantly updated. You can follow your favorite programmers on this website as well as comment or like for programs that we find interesting.

Little Snippets is a website that aggregates a variety of components commonly used in web design and development. With sections divided into many small sections, it is easier for you to find the code snippet you want. In addition, it also has tutorials or introduces new code snippets and libraries commonly used in the web design.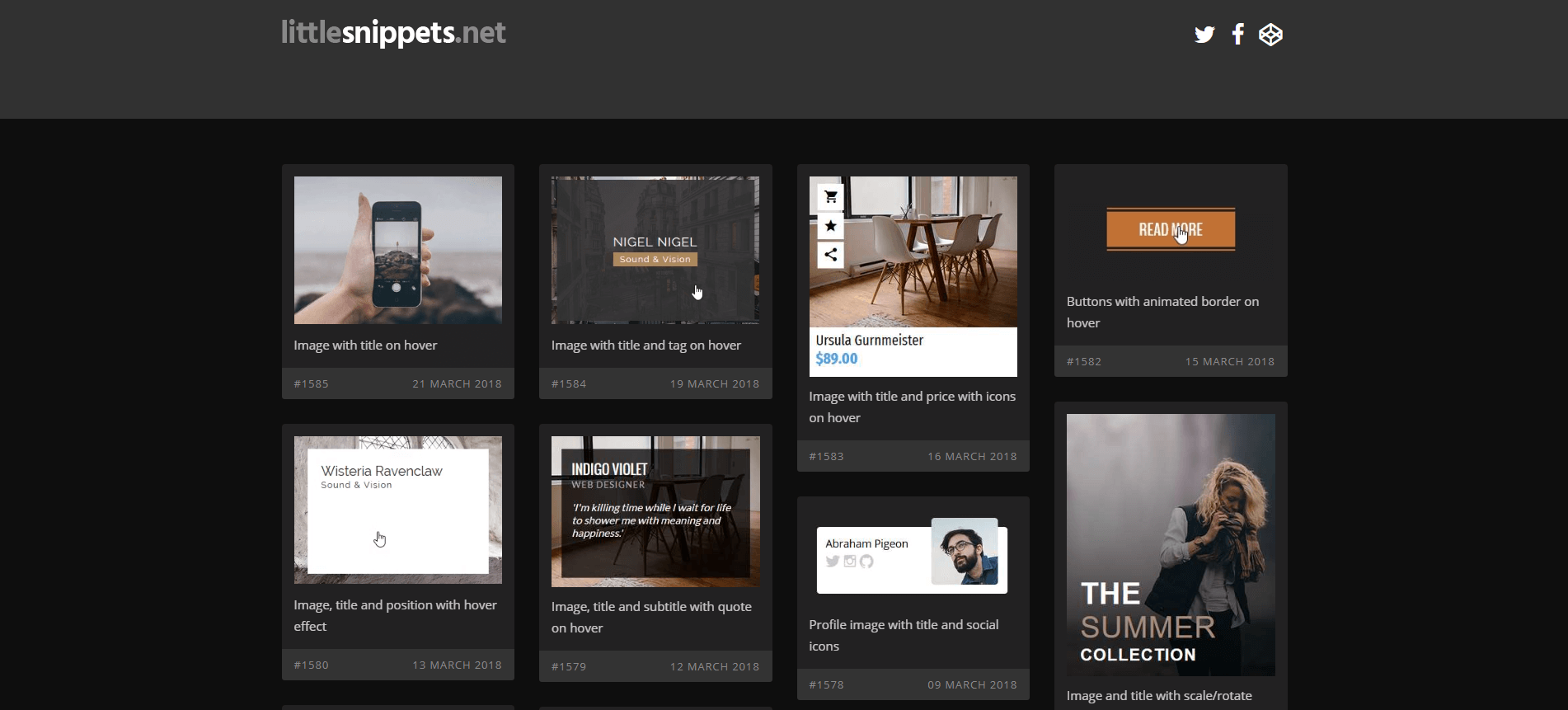 CSSdeck is a website specializing in synthesizing code snippets about HTML, CSS, and Javascript. You can find interesting and creative programs designed with CSS here. In addition, it also has a forum where you can share your knowledge and programs with the community or ask about the problems you are wondering during the programming process.
Code to go is collection code snippets of the popular programming language like Javascript.... It is a place to help us solve common problems in web development. In 2020, the author has added code snippets and tips for those who specialize in the React framework. In addition, it also has free courses for those who want to learn programming from basic to advanced with the Javascript programming language.
Tweetsnippet is a website that specializes in synthesizing code snippets, small tips or guidance articles. In-depth tutorials on programming languages posted on the social network Twitter. It is often updated regularly, with time for each update about 3 to 4 days. Tweetsnippet also supports many Today's popular languages such as Javascript, PHP, HTML, CSS, Vue JS... In my opinion, this is where we are. You can learn many interesting things from good programmers to improve your knowledge and apply use in your programming work.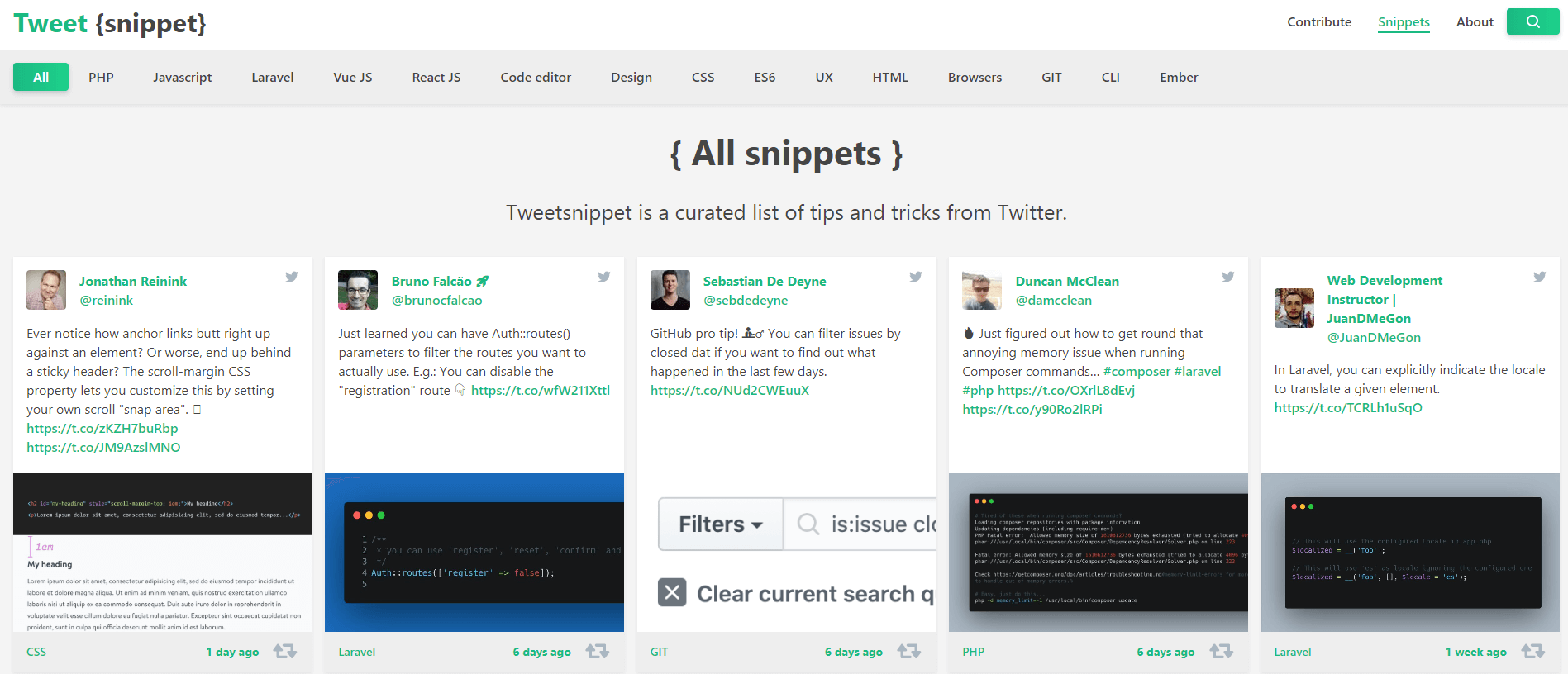 Related Articles:
Conclude:
Through this, I hope the article will provide website code examples. If you have any questions just send an email I will respond as soon as possible. Please continue to support the site so that I can write more good articles. Have a nice day!